Top 10 Maui Snorkeling Tours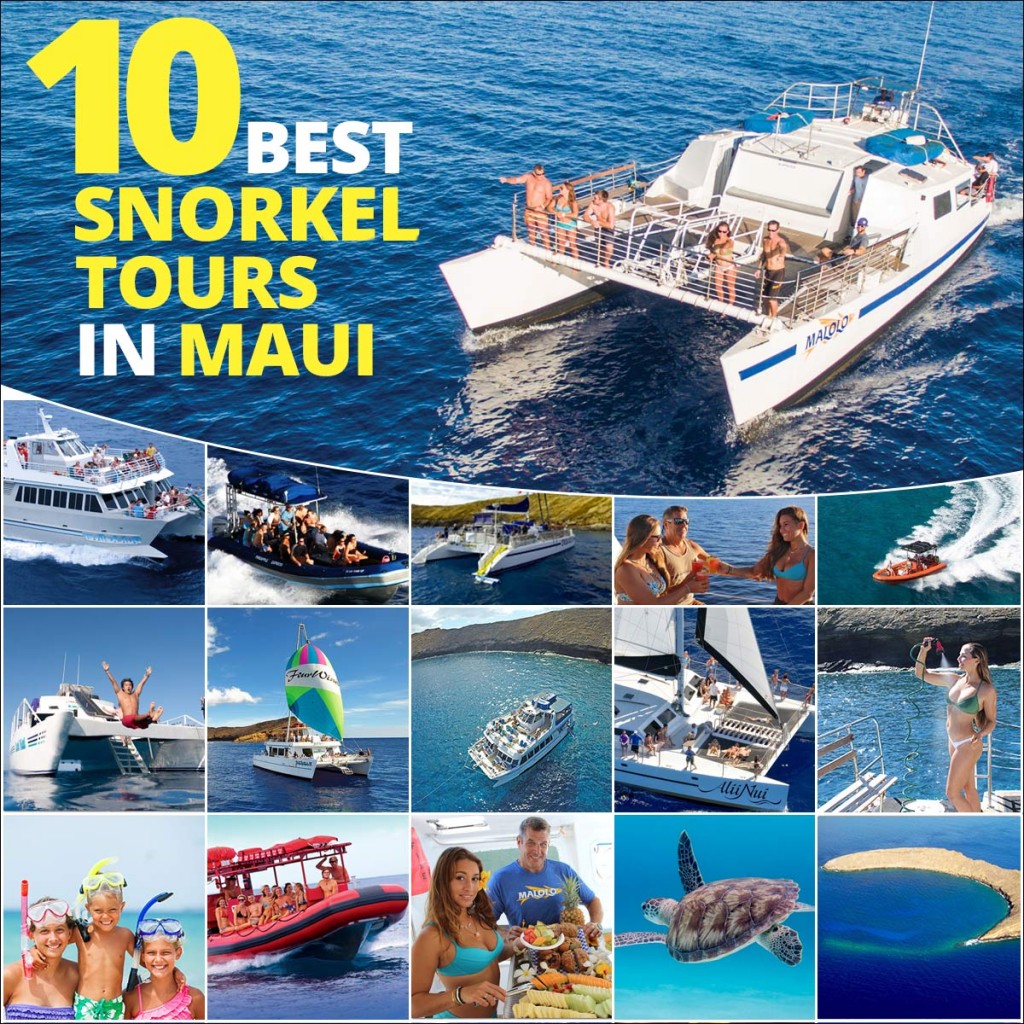 You've been waiting for months to get into the water in Maui, right?  Don't bother trying to deny your marine desire; I know about it, you know about it, and it's all good – embrace it!  One of the best things you can do when you finally get in (besides sigh deeply and happily) is to go snorkeling!  The top 10 Maui snorkeling tours outlined here provide everything you'll need to explore the island's coral reefs in comfort: snorkeling sites, snorkeling gear, delicious food and drink, fantastic lifeguards (in the form of your boat captain and crew members), and fabulous vessels to get you out to the fish and sea turtles!  What kind of vessels are we referring to, you ask?
Well, we've got motorized catamarans, we've got sailing vessels, and we've got hard-bottomed rafts!  We've got morning tours, afternoon tours, and tours that last the livelong day.  In terms of where these vessels travel, perhaps you've heard of the specTACular Molokini Crater?  If not, you'll be talking about it by the end of this blog, and then again by the end of your amazing snorkeling trip there – for the rest of your life.  That's how cool it is.
Molokini is a gorgeous volcanic crater that has eroded with time and, long story short – filled up with Pacific Ocean water and a huge, colorful, coral reef.  Molokini sits beautifully just three miles off the southern Maui coast, and one can only get there by boat.  (Well, unless you can shapeshift into a bird, and there is a really cool Hawaiian legend surrounding Molokini right here that involves two people who can.)  Nine of these snorkeling tours take you to see the marine life at Molokini, and they also add a bonus site: Turtle Town!  (Yes, it's exactly like it sounds!)  The tenth tour brings you all the way 'round the Hawaiian island of Lanai for totally different adventures in snorkeling and beach exploration!  Cool, right?
Yes, it's absolutely cool – trust me.  Now, read all about the Top 10 Maui Snorkeling Tours!
Recent Posts
You've been waiting for months to get int...

From food to pristine beaches, each Hawaiian is...

Whale watching in Hawaii is one of the top reas...

Traveling with kids can limit your choice of ac...

You've spent time and money to come to pa...