Where to Find the Whales on Each Hawaiian Island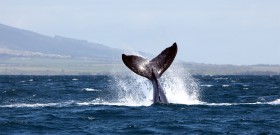 Whale watching in Hawaii is one of the top reasons people come to visit in the winter.  If you're coming to the islands to see our biggest showstoppers in action , you'll want to make sure you park yourself in a front row seat.  With this guide, you'll be sure to have more than a few kodak moments!

Maui
Maui is known to be one of the best spots to catch a whale sighting.  Because of the shallow waters and protective channels, thousands of whales make these waters their playground!  While you will be able to catch far off glimpses of these gentle giants from shore, a boat tour is the way to go for a jaw-dropping show.
*Quicksilver Whale Watch Cruise
The expert guides on the Quicksilver will take you to Maalaea Bay, often referred to as the "cradle of the humpback."  The shallow waters are the perfect place for the humpback whales to mate and give birth.  And aboard the Quicksilver, every seat is a good seat!  With a glass bottom, you'll be the perfect position to see the wild marine life.  Get your cameras ready on this tour, because you will not be leaving the boat disappointed!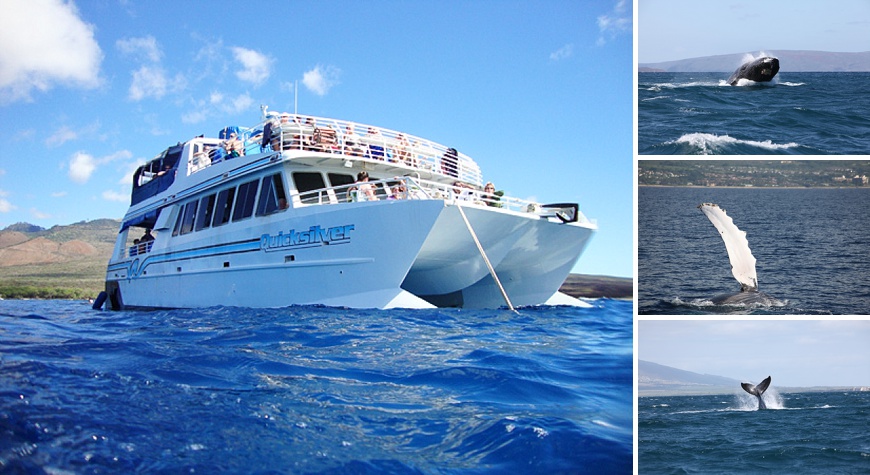 *AM Molokini Snorkeling aboard the Quicksilver
If you're looking to pack in a few activities into one day, this tour is for you!  After enjoying a continental breakfast and a few snorkeling tips, you'll set out on your ocean adventure.  Whether you're a first-time snorkeler or you invented the sport, this tour is friendly for all experience levels.  And if you'd prefer to just swim around and skip the snorkeling, make good use of their on-boat water slide!  Whale watching a special addition to the snorkeling cruise during the season (December-April), however the giant sea turtles that you'll snorkel with are a year round treat.  This tour includes snorkeling gear, the option of using a digital underwater, breakfast and lunch.  You'll even get to hear some fascinating Hawaiian History and your guides will point out archaeological sights of interest.  Whale watching and snorkeling with turtles makes for a very good day!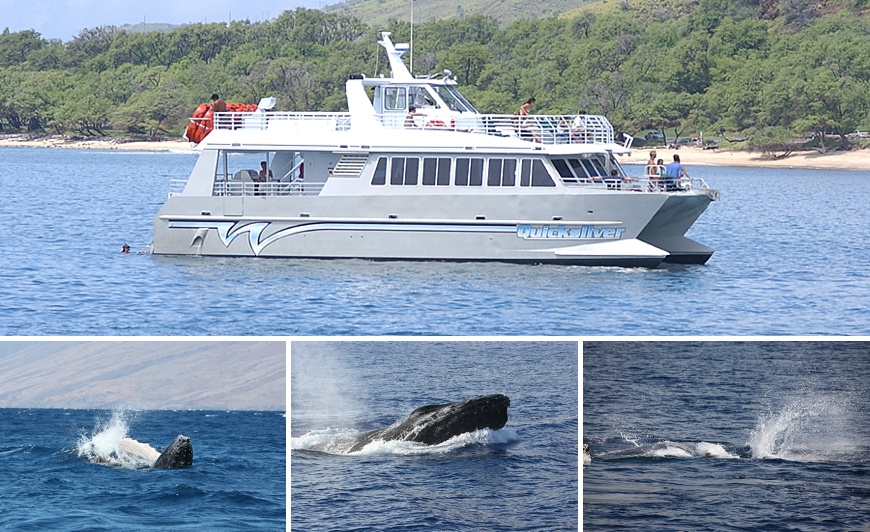 Kauai
This island often draws people that are looking for a mellow time in on a stunning location.  And when whale season rolls around, this already spectacular island becomes magical.  Make sure to book a tour early, as they fill up quickly!
* 7 hr Niihau and Na Pali – HoloHolo Charters
This all day tour includes Lehua Crater, Niihau's North Shore, and the Napali Coast.  You'll see schools of vibrant tropical fish, pods of dolphins and if the whales are breaching, you'll be front and center for that as well!  Their professional staff will serve you breakfast and lunch.  All your snorkeling equipment will be provided, as well as detailed instructions for a successful and fun time.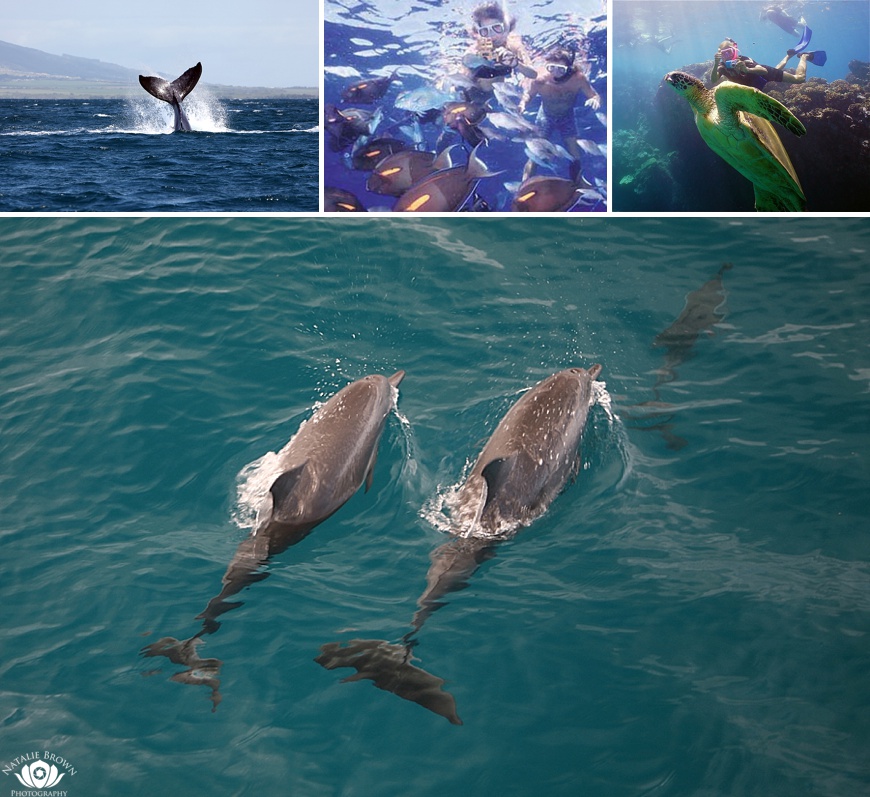 * Na Pali Sunset Cruise – HoloHolo Charters
This cruise is what tropical dreams are made of!  Stunning sunsets and glasses of champagne while cruising in Kauai's largest vessel will make your night!  As you watch nature paint the sky, you'll be served a delicious dinner onboard.  And whale season makes these cruises all the more romantic.  Dolphins and sea turtles will also jump into the scenery, so prepare yourself to be completely amazed by this tour!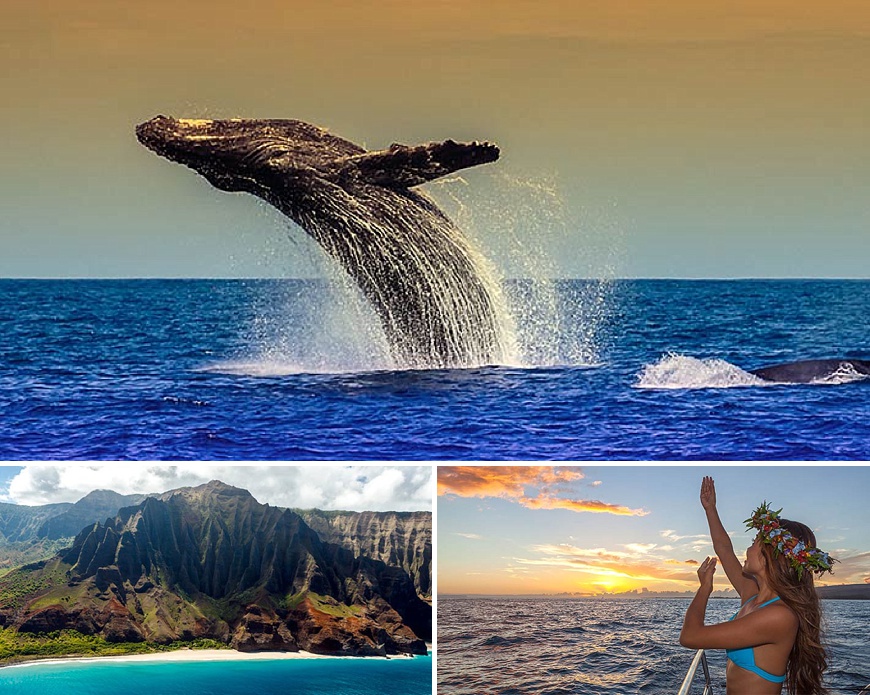 Big Island
If you need a break from the lava fields and secluded beaches, these tours are just what the doctor ordered!
*Morning Snorkel Adventure – Sea Quest Rafting Adventure
If you'd prefer to sail the ocean blue without one hundred other people elbowing their way to the front of the boat, this small boat tour has your name on it.  Your captain will share this island's rich history culture.  You will be taken to two of South Kona's treasures, Pu'uhonua O Honaunau and Kealakekua Bay.  You'll spend time exploring the sea caves, the lava tubes and the plentiful marine life.  For the last 30 years, Kealakekua Bay has been a marine sanctuary.  Paired with visibility up to 100 feet, you will get quite a tropical show!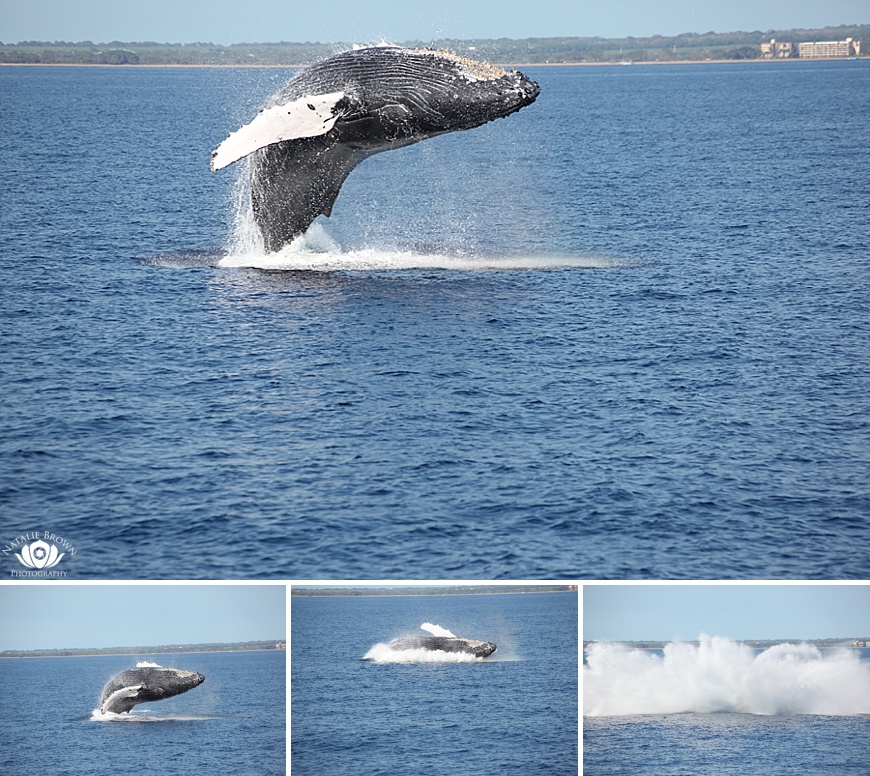 If you love what you saw…
…then help us keep these gentle giants slapping their tails and jumping for joy!  Preserving the humpback whales is very important, as they neared extinction in 1966 because of whaling.  While federal law does now protect them, there is plenty that we can do to help!   Here are a few tips to keep the whales happy and healthy:
Keep the beaches and ocean clean.  That means not only taking the trash you brought, but to also pick up a few extra pieces you see laying around.  Hold on tight to your belongings while on the boat cruises, as it's easy to accidentally let a wrapper or two slip from your fingers into the water.
Support companies that support whale preservation.  There are plenty of companies that are able to show you the whales without getting too close and scaring them.
Make sure your sunscreen is eco-friendly.  Many sunscreens have chemicals that pollute the water.
Keep your distance.  The law says you need to stay 100 feet away from the whales.  Of course, they aren't aware of this rule, so it's ok if their curiosity leads them to swim up to you.
Whale watching season in Hawaii is one of the most exciting times for visitors and locals alike, and now you can join in the fun!

Recent Posts
You've been waiting for months to get int...

From food to pristine beaches, each Hawaiian is...

Whale watching in Hawaii is one of the top reas...

Traveling with kids can limit your choice of ac...

You've spent time and money to come to pa...